Read below the essays submitted for our 2020 Awardees!
Brianna M. Arnold
Daughter of John and Mariarosa, nee Mosconi. Graduate of Dumont High School. Member of the Student Council. Attending Ramapo College, New Jersey.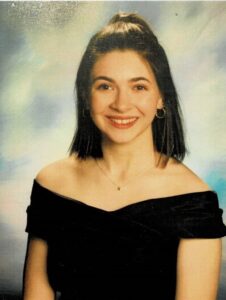 In the province of Piacenza was a small village of Ghezzi, Farini D '0lmo located in northern Italy. In this village, all the villagers, including my grandparents and mother were related. Their life in the village was simple but struggling at times.
The role of women in the village was very different from the men's role. Throughout the week, women were responsible for the children and the children would join along for the weekly run to the market to get the supplies necessarythe week. But the tasks of women didn't stop there, they were also required to cook for their family, help the family take care of the farm all while taking care of their children.
The life of men in the village revolved around their farm. In the warmer weather, they were required to take care of the animals, harvest crops, and help take care of the children whenever they finished their work for the day. When the weather became cold the men would find construction jobs in the city and other villages due to the lack of crops on the farm in the winter. The men would also make necessary repairs to the house and anything else on the farm that needed to be fixed.
The lives of children in this village were fairly simple. The children would go to a small school near the village for a few years before they were required to help their family on the farm. For example, my grandparents never got past third-grade before their family needed on the farm. Once the children left school they would learn from their parents how to tend to the animals, take care of crops and anything else they were capable of helping with on the farm.
Although everyday events in Ghezzi were consistent there were a few days throughout the year when everyone in the village would get together and celebrate. One of these events would take place on March 25. This event was called the Feast of Annunciation, this represented the day when Gabriel visited Mary to tell her she would be the mother of Jesus Christ. On this day the people of Piacenza would gather their children and present them to the image of the Virgin Mary in several churches throughout the region. One other event they would celebrate yearly on July 4th. This was the celebration of Sant 'Antonino, the patron of the city.
These are the roles that my family followed for years before they decided they wanted a better life. Members of my family started coming to America little by little with the money they had saved up from farming. Eventually, that small village in Ghezzi where they made so many memories became vacant with the exception of yearly visits.
Melanie Friedmann
Daughter of Thomas and Mary Ellen, nee Walsh. Graduate of Syosset High School. Honor Roll, Italian National Honor Society, All-State Mixed Choir New York State, All-Country Mixed Choir New York State, Vice President of Vocal Jazz, Section Leader of Adelettes, Girl Scout Gold Award Candidate. Attending City College of New York, New York.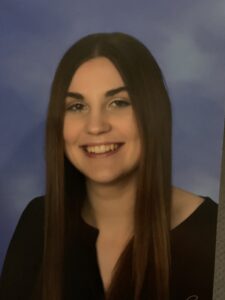 My Great-Grandparents were both born in Piacenza. My Great-Grandmother, Maria Villa, was born in Seregno and my Great-Grandfather, Andrew Carisetti, was born in Groppallo. My Great-Grandmother's family eventually moved to Groppallo where she met my Great-Grandfather for the first time. He worked as a carpenter. After they got married they had one child, my Great-Aunt Tina, my Great-Grandfather decided it was time to venture off to America. He lived there for a few years until he saved enough money for the rest of his family to come over. He worked many jobs in Brooklyn, NY including working on the New York subway. This was a difficult but necessary change for my Great-Grandparents as they had to travel with their 3-year-old daughter, and completely shift their lives around. They later had 4 other children, 2 daughters and 2 sons, while they prospered on to live the American Dream like many other Italians. However, my Nonna always tells me how our family was and still is very unique because at the time my Great-Grandparents were alive, it was mostly Southern Italians living in Brooklyn. My Nonna and her cousins grew up together, and made friends that grew up in Naples and Sicily, and in that way they felt different. Although that feeling was present, my Nonna also mentions that there were some families that also came from Northern Italy, that they grew up with and would often share many holidays. Today my Nonna and her relatives are very thankful to be from Piacenza and even my siblings and I continue to be enthralled with our Italian heritage. Graduating high school this year, I have taken 7 years in Italian and was inducted into the Italian Honors Society last year.
I admire the roots of the Societta Val Trebbia Val Nure organization, and the roots that it was founded on. It was formed by a group of men who felt education was most important for the future generations of the children descended from Piacenza in Northern Italy. The other objective was to pass down to their descendants the customs, stories, songs and food (especially the food) from Piacenza. Lucky for me my Nonna, Great-Aunts, and Uncles exhibit the culture of Piacenza in everything they do throughout their lives. I always look forward to going Upstate or into Queens to enjoy some excellent Ravioli, Tortellini, Rice Torta, and many, many more delicacies. My brother, my sister, and I have helped my Nonna make pasta many times, and we always speak italian (to our best ability) when we visit our Nonna and our aunts. When I visit it reminds me of how much I enjoy all parts of our culture. My Nonna always says that heritage has and will continue to be the most important part of our family and I certainly see myself having the meals, listening to the music, and enjoying the laughs that I have enjoyed with my family in the future. I also had an amazing experience in Italy without my family, where I was able to sing at multiple different venues in Rome and Venice with a performance group of other people my age. I was enthralled every second when I was touring and performing in Italy, as I was constantly reminded of my Nonna and our heritage.
My Nonno, Thomas Friedmann was a member of the Val Trebbia club. My Dad and his brothers are all recipients of the scholarship, and my Dad and his cousins have continued to be members of the club even today. I hope to continue my experiences with the Italian language and culture in the future.
Lydia M. Gaccione
Daughter of Louis and Debbie, nee Perangelo. Graduate of South Side High School. National Honor Society, Spanish Honor Society, Math Honor Society, High Honor Roll, Varsity Softball, Varsity Cheerleading, SADD Club, Project Princess, SMILE Club. Attending Molloy College, New York.

Piacenza is a well known city, settled in Emilia-Romagna, Italy and an important asset to its culture. It is the capital of the province of Piacenza. It is located near the longest river, the Po River which was essential in the development and communications of this country. The significance of Piacenza began as it was the center of the Roman Empire throughout 218 BC. Although the city struggled after Frederick I Barbarossa, the emperor was defeated and soon after went through a time of conflict where they experienced a civil strife. The two groups had opposing views on the political situation of Piacenza, the Guelphs strongly supported the Pope while contrastingly, the Ghibellines were in support of the Emperor. Leading up to the 1540s, there were other disputes of power between the Visconti and Sforza families. This power struggle resulted due to the disagreement on papal and the French rule.
Pope Paolo III Farnese, head of the Catholic Church, was able to establish a Dukedom in the two cities of Piacenza and Parma. His son, Pier Luigi Farnese, also became an essential role as well, being that his family ruled until about the 1730s. At this time, another power struggle began where Piacenza was constantly under different ruling by Bourbons until 1808, shortly after the Austrians took over and then the French. Each one overthrew the one before. Alongside all of the disagreements that had happened in this city, it still managed to progress in the development of its roads and rivers. These advancements allowed for the expansion of ideas, customs, traditions and cultures to be exchanged and incorporated into Piacenza as it was growing. The ruling from 1816 to 1847 was by the government of Margaret of Austria, she was beloved by all of the people of Piacenza and adored for the way that she was educated and reasonable.
When she passed, the people of Piacenza fought to be taken out of the Piedmont kingdom although it was a failure and was restored to the Austrian occupation. The situation turned around for Piacenza in 1859 when it fought for its independence in the Second Italian Independence War and finally succeeded. Italy was completely and permanently reunited and able to flourish as one. One of the first advancements that the city was able to complete was a bridge over the Po River. This River is 405 miles long and even though rivers can be a great resource to the development and agriculture of cities, it can also be a barrier between areas of land, culture and people. The bridge was built after Italy was unified and put a stop to this. The Po forms the boundary between the regions of Lombardy and Emilia-Romagna and Veneto so the bridge was able to connect these areas.
The development of the Province of Piacenza made this area of Italy a popular tourist attraction in the way that it has many historical landmarks reflecting on the development and how far it has come. The Farnese Palace is where the Farnese family of dukes that were in charge from 1588 to 1731 resided. This area is now used to see architecture from the time period and as a museum. Likewise, the cathedral in piazza Duomo that was built in 1122 and has an architecture such as columns and statues that resembles the Roman time period and elegance. This spot also has very famous paintings from artists such as Guercino, Carracci and Procaccini. These paintings are referred to as "frescoes". This technique is used within the Italian culture while helping to reflect history. This technique is a combination of small brush strokes with the use of water-based paints applied to plaster.
Although Piacenza went through many power struggles, it is admired through all of its development on being a strong and unified country. The history of the province of Piacenza was significant in the improvement of the city, leaving behind primary sources that can be used to provide education, aid understanding and help to grasp insight into such an inspirational part of history.
Dylan B. Guglielmetti
Son of Philip and Darlene, nee Barbara. Graduate of Benjamin Cardozo  High School. Principal's Honor Roll, Scholar Athlete, Junior Varsity and Varsity Football, Junior Varsity and Varsity Baseball, Yearbook.  Attending State University of New York Cortland, New York.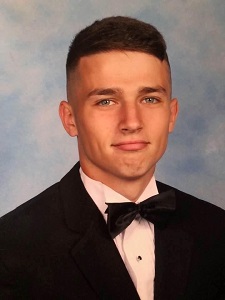 My grandfather, John Guglielmetti was born in Pradovera, in the Province of Piacenza on the side of  Val Nure. When he was a young boy, his family moved to Pieve di Revigosso, Bettola. As a young child he worked very hard on the farm because his father was in the United States earning money to send back to his family. He and his family were due to come to the United States to join his father but World War II broke out and they couldn't leave Italy. The war years were hard for my grandfather and his family. Their home was on the main road and the German army used their land for a camp. My great grandmother had the German officers billeted in their house where she had to cook for them. As the war was coming to an end the Germans were taking all young men for their army. A few older men of the village took my grandfather, who was only 13 years old at the time,  to the mountains to hide so they could not be taken. They stayed hidden in the mountains for three months. My grandfather saw terrible things that happened there but rarely talks about it. After the war 1946 my grandfather's family emigrated to America. They sailed from Genoa on an American troop ship called "The Marine Perch". When they arrived in America they found out that their father was very sick and after a month of only being together as a family he passed away. My grandfather had to go work in a glass factory to support the family. After a while things did get better. He became a member of the Societa Val Trebbia E Val Nure and has been a lifetime member since. It was at one of the Societa's dances at Webster Hall that he would meet my grandmother. Tina Carisetti. They were married in 1959 and have been married for almost 62 years. Today's day my grandparents keep all the Italian traditions that they grew up with, from cooking to music and they try to instill them in their four children and 10 grandchildren. Everything that my grandmother puts on my dish I eat because I know it'll be delicious. My grandmother loves to sing Italian songs, especially Quel Mazzolin di Fiore. My grandfather turned 92 years old this month. Our family didn't get the chance to celebrate his birthday in the traditional way because of the pandemic that is going on, but that didn't stop us from celebrating completely, we did all gather on a group Zoom chat to wish him happy birthday. He is very proud of his four children (three who have received society scholarships) and his 10 grandchildren, seven who have received society scholarships and four have graduated college. Due to the war, schools in Bettola were closed and my grandfather was only able to finish sixth grade in school. He believes an education is important and I want to make him proud of me by attending and graduating college. I am very proud of my grandfather. He is a wonderful role model and I love him very much.
Carlo J. LaForte
Son of Joseph and Cristina, nee Lattineli. Graduate of Xavier High School. Xavier High School Baseball, Christian Service, CFX Maryland, Kairos. Attending Le Moyne College, New York.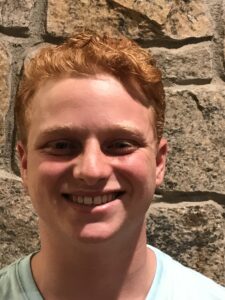 Piacenza, Italy is located in the northern region of Italy. It was founded in 218 B.C. The province prospered due to its location. It is situated along the Po river. The province used the location to the best of their ability, it allowed control of all river and road traffic. Piacenza is a province in the Emilia-Romagna region. Piacenza is the capital city.
Piacenza runs along the Po River. The land is full of natural resources and beauty. The valleys and mountains hold medieval villages and castles. Piacenza's ancient splendor is the wonderful Pa lazzo Farnise of Piacenza.
The heart of the city is the Piazza del Cavalli and Piazza del Duomo. There are a great number of monuments such as the Church of San Sisto. In Val Trebbia rises the Bobbio which is from the middle ages.
Piacenza also has a long tradition with local cuisine. Some favorites from my great grandparents Domenica and Agostino Lattinelli were Risotto with porcini mushrooms, chicken cacciatore, homemade ravioli, homemade gnocchi, and of course zabaglione or zeppole foe dessert.
My grandfather was Carlo Lattinel li. He was extremely proud of his heritage and history with Piacenza. In 2015 we went to Italy as a family. My grandfather made a special trip back to Bettola and Piacenza to visit family. He always spoke of family in Piacenza with great pride. He taught me so many things but the one thing he always stressed was the importance of family and remembering where we came from and who helped us along the way. He also stressed the importance of helping others. I am proudly named after my grandfather and I hope to follow in his footsteps. My grandfather comes from very strong people that had the determination to succeed. Their belief in working hard and respecting family and traditions run deep. My grandfather told me stories about his father and mother and what life was like in Piacenza and I am making a conscious effort to keep those memories alive. I strive to honor their memory and make to make them proud. When people ask me where my family is from I do not say Italy, I say Piacenza.
Emma C. Monzeglio
Daughter of Charles and Rebecca, nee Conroy. Graduate of Glastonbury High School. Gettysburg College Civil War Institute Scholarship Program Award, Four years High Honor Roll, National Honor Society, Daughters of the American Revolution Good Citizen Award, Rho Kappa, Gettysburg College Book Award, Four years Student Council, Student Advisor, Four years All-Academic, Student Athlete Leadership Team, Four years Varsity Field Hockey, Varsity Field Hockey Captain Senior year, Special Olympics Baseball Coach, Girls State attendee, Big Brother/Big Sister Program Liason. Attending Gettysburg College, Pennsylvania.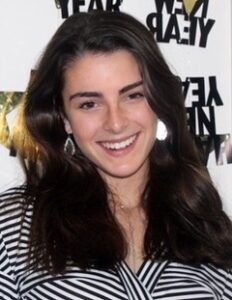 The province of Piacenza has a very unique and interesting history. Piacenza's capital is also called Piacenza. It was originally named Placentia when it was founded in 218 BC by the Roman Empire, when six thousand Roman colonists settled the land. This had a long-lasting effect on Piacenza which can be seen through its architecture. Soon after the colony was attacked during the Second Punic War, which was waged by the Romans against Carthage, the battle took place by the river Trebbia. In 187 BC the city of Piacenza flourished as a harbor city along the Trebbia and became an important stop on the Via Emilia, a route to Rome.
In the Middle Ages the city was raided multiple times by foreign nations and even surrendered to them. Due to its close proximity to the Alps many merchants and pilgrims flooded into Piacenza. This caused the city to be reborn in the year 1 000, changing its culture, economy, and demographic. During this time, a rich class of merchants and craftsmen developed below the Nobles. This caused financial growth and ultimately established Piacenza as one of the most important centres in Europe. A little over a century later, in 1126, the city developed its own government and joined the Lombard League, a Medieval Alliance that opposed the Holy Roman Empire. In the 12th and 13th centuries trading, production of fabrics, and farming in this region increased since Piacenza controlled the trade routes to Genoa. As the city prospered, many churches and monasteries were constructed, including two of the city's landmarks that still stand today, the Duomo and the Palazzo Gotico.
In the Middle Ages, Piacenza was the center of many fights and changes in leadership. In the middle half of the 13th century, the Piacenza area was ruled by multiple families, the Scotti, Pallavicino, Visconti, Sforza and Confalonieri. Until1545, when Pope Paolo III Faroese ruled it under the Duchy of Parma. Later Pope Pablo III Faroese appointed his son Pier Luigi as the leader. The Faroese dukes ruled until 1731, then the Bourbons took over and after the Bourbon's the Austrians and eventually Napoleon ruled the region and annexed it to France. Marie Louise of Austria also ruled and helped develop the city by building more bridges over the Trebbia and Nure rivers to improve the infrastructure and became a supporter of developing many artistic and intellectual centers.
In 1848 a referendum declared Piacenza to be the first Italian city to be annexed to the future Italian Kingdom, the Sardinian Kingdom. This gave the city the name Primogenita d'Italia, meaning Italy's first born. In fact in January of 1941 , the city was awarded the gold star for its Italian patriotism to be annexed during Italy's movement to be unified.
About a century later, the city suffered many years of destruction during World War II. The city was bombarded by the Allies and many of its railways and bridges over rivers like the Trebbia and the Po were destroyed. In addition, the center of the city was damaged. Most of the surrounding roads around Piacenza and many Northern Italian cities were destroyed leaving them isolated and subjected to many bombings, some of the worse was in Piacenza. In late April of 1945, a battle broke out in the city as a part of the Italian Resistance movement. In 1996 the president ofltaly, Oscar Luigi Scalfaro awarded the city a gold medal for bravery for its resistance to fight against the Nazis.
Thomas C. Monzeglio
Son of Charles and Rebecca, nee Conroy. Graduate of Glastonbury High School.  High Honor Roll, National Honor Society, Boys State Nominee, Central Connecticut Conference All-Academic Team, Varsity Lacrosse, Interact Club, Special Olympics Basketball Coach, Best Buddies Club. Attending Rhodes College, Tennessee.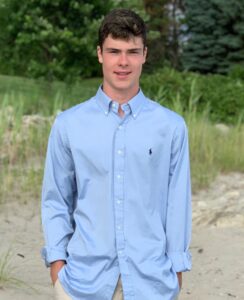 First established as a Roman military outpost against invaders in 218 BC, Piacenza has survived many centuries. The province would see frequent changes in rule, from different dukes and bishops until it was declared free in 1126. But change did not end there. Piacenza would still be subject to rule change under different families as well as French and Austrian rule. Finally, after the Second War for Italian Independence, Piacenza would join the Italian Kingdom. These changes however have added a unique diversity to the province's history as well as culture. One aspect in which this unique diversity can clearly be seen is the architecture and various buildings within the province.
Although the province was established by the Romans over two thousand years ago, no Roman buildings or statues of any sort remain standing or in use. However, in the capital city of the province, Piacenza, the town square in the center of the city is an example of Roman architecture. Outside the city, in nearby Emilia Romagna, many Roman artifacts and ruins have been discovered and a major archeological site still remains.
In the center of Piacenza stands the Palazzo Gotico which was constructed by Alberto Scoto in 1281. The palace is a great example of Gothic architecture as it has many arches as well as brick and marble walls. When first built, the palace was the center for business and politics in the city. Today the palace is used as a popular spot for large gatherings.
Perhaps one of the most renowned religious structures in the province is the Cathedral in Duomo. The cathedral first began being built in 1122 as an addition to the church of St. Giustina, and wasn't completed for over a century until1233. However, additions to the church were still constructed centuries later, such as a new dome and tower. The cathedral is of Romanesque architecture as it includes small columns and walls of grey stone and pink marble.
Another renowned religious structure in Piacenza is the Basilica of Sant'Antonio, which was designed by Pietro Vago in 1350. The church has stood for many centuries but has gone through many changes to its architecture which includes several styles such as Romanesque and Gothic. The church is home to many artifacts including several old paintings and statues, most recently discovered is the statue of Gregorio X.
The Palazzo Famese is another example of diverse architecture in the region. The Palace was constructed by Francesco Paciotto in 1558, but was built on top of a citadel which had been previously built in 1352. However, the palace was never completed but instead included parts of the old citadel. The palace was used by several dukes until 1731 when it became vacant for a long period of time. Today, the palace is home to numerous different museums.
All together, Piacenza's unique history and culture has allowed for diverse architecture within the region. This can be evident when looking at the different palaces, churches, and many other buildings and monuments which show a variety of Roman, Romanesque, and Gothic architecture.
Krysten A. Mooney
Daughter of Timothy and Carolyn, nee Gaccione. Graduate of Bethpage High School. Gold Honor Roll, Principal's Honor Role. Junior Honor Society, Cheerleading, Cheer Coach, Senior Class. Attending Molloy College, New York.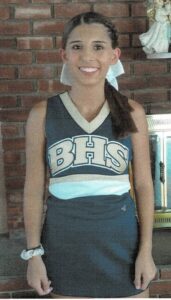 The province of Piacenza is a province in Emilia-Romagna region in Italy, its provincial capital is the city Piacenza. Piacenza is a city in the Northern region of ltaly, on the south bank of the Po River just under the mouth of the Trebbia southeast of Milan. Piacenza was founded in 218 BC as an Roman colony of Placentia. After being surrounded by armed forces while trying to capture Piacenza, by the Carthaginian general Hasdrubal in 207 BC and was unsuccessful. After being sacked by the Gauls in 200, Piacenza was reinforced and restored.
Piacenza became the terminus of the Via Aemilia in 187 BC, the great arterial road to Ariminum, and later became the focus of other major Roman roads. After the barbarian invasions, Piacenza was governed by its bishops from 997 to 1035, and it then became a free commune in the 12th century. Making Piacenza a leading member of the Lombard League of towns who were against the emperor Frederick I Barbarossa. Despite the political changes in Piacenza, it continued to become stronger and increased from its control of the traffic of rivers and roads.
There was a long period of struggle between the Visconti and Sforza families, alternating the rule between papal and French, but in 1545 it was ended by the creation by Pope Paul III of the hereditary duchy of Parma and Piacenza for his son Pier Luigi Farnese. The duchy of Parma and Piacenza, was when the cities of Parma and Piacenza in northern Italian, with their dependent territories detached from the Papal States created by Pope Paul III. It was retained by the Farnese family until the extinction of the Farnese family in 1731, after the extinction of the family it was passed to the Spanish Bourbons in the person of Don Carlos who was the future Charles ill of Spain. But there was one small interruption, it was when the Spanish Bourbons controlled the duchy until 1808, and it was formally annexed to France as the departement of Taro. Piacenza is a long-established centre for cereal growing and viticulture and has a number of rapidly developing light industries, including the manufacture of chemicals, office furniture, and buttons. Piacenza is also a rail and road centre on the main routes from Milan to Bologna.
In the year 1814 the Congress of Vienna gave the duchy to Napoleon's consort, her name was Marie-Louise. She ended up passing away in 1847, and the cities Parma and Piacenza were restored to the Bourbons. Whose reign was periodically troubled by assassination and revolution. Louise of Bourbon-Berry, regent for her infant son Robert. On June 9, 1859 she transferred her powers to a provisional government, which ended up paving the way for the annexation of Parma and Piacenza to Piedmont-Sardinia in March 1860. Piedmont-Sardinia became part of the Kingdom of Italy in 1861.
The province of Piacenza is located in northern Italy on the south bank of the Po River just under the mouth of the Trebbia southeast of Milan. Piacenza is a city that became a very important asset to Italy and its culture especially in northern Italy. After going through a lot in Piacenza's history to become successful, it ended up becoming a strong and independent city in Italy. And still til this day Piacenza is a strong beautiful city in Italy that continues to flourish with amazing culture and helps provide knowledge to people about Italy.
Olivia M. Votto
Daughter of Joseph and Claudine, nee Draghi. Graduate of Moore Catholic High School. Student Council, Cheerleading, Track, Flag Football. Attending Laboratory Institute of Merchandising College, New York.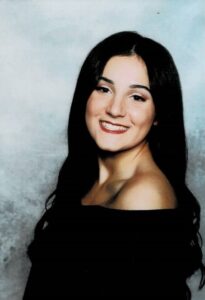 My grandfather, Mauro Draghi, was born on Tuesday, March 15, 1927 in the farmlands of Bobbio, Piacenza in the Emilia-Romagna region of Italy. Modern day Bobbio has maintained some important urban features, like the houses on the fourteenth-century Via Maestro, the castle and the parish church, and narrow roads and stairs.
With its broad lowland and adequate water supply from both rainfall and irrigation, Emilia-Romagna is one of the leading agricultural regions of ltaly. Wheat, corn maize, fodder, and sugar beets are the principal crops; vegetables and fruits are also grown in the lowlands and grapes on the Apennine slopes. Livestock raising and dairy farming are extensive, and the region has a large food-processing and food-packing industry. The manufacture of cars and trucks, farm machinery, chemicals and pharmaceuticals, ceramics, and clothing is important. Small hydroelectric stations on the rivers provide power, and these are connected with the Alpine plants so that interchange at different seasons is possible. The discovery of large deposits of natural gas gives the region a vital role in the energy economy of Italy.
My grandfather, Mauro, was born 13 pounds with the help of one doctor and one midwife. His parents were Joseph and Angela Draghi. They brought my grandfather, Mauro, to the United States at 18 months old. Here he learned the customs and traditions of being an American young boy by living in the heart of an Italian-American community on 9th Street in Brooklyn, New York. That experience was short lived. At seven years old he returned back to Italy where he lived with his aunts who raised him until he went away to school and studied with the Jesuit priests.
My grandfather told me that at age 15, during World War II, the Germans threw him out of his house and he had to go fetch them wine or whatever they had asked for. He continued his education at the University of Genoa where he received a scholarship under the fascist dictatorship of Benito Mussolini.
In 1954, at age 27, Grandpa Mauro came by boat over to the United States where he was again reunited with his parents after many, many years. He was detained on the boat for several days. He was told that he had pink eye but later found out he never did. He was released to his father, who was now somewhat of a stranger to him. Speaking very little English made finding a job very difficult in America. His sister, Mary, who was born and raised in America would teach him English. She would walk him through the neighborhoods of Brooklyn. My grandpa told me a funny story. He was confused why all the stores in the neighborhood were selling salt. He later found out from his sister Mary that sale meant discount.
Soon enough he found a job in the mail room of an investment management company known as Merrill Lynch, Pierce, Fenner, Smith & Bean, later to be known as just Merrill Lynch. He ended his career at Merrill Lynch after over 30 years later as vice president of the mail services at Merrill Lynch. Five years after moving back to America he was a working man who had found the love of his life Diana who he eventually married ten months later on September 3, 1960. Eighteen months later on March 13, 1962 their eldest daughter, Denise was born. Their second daughter, Valerie was born on July 12, 1963 and the youngest of the three daughters, Claudine was born on August 14, 1966. Grandpa Mauro had a total of eight grandchildren. Three of those grandchildren were triplets. Grandpa, at the age of75 would come over to my mother, Claudine's house every day and help her until my father, Joseph Votto, came home from work at 6:30 or even later.  He was a hard-working man who put his family before himself and made sure his girls were given opportunities that he wasn't able to have as a child.
On November 21, 2018 at the age of 91 Grandpa Mauro passed away peacefully. I wasn't able to ask all the questions I wanted to. I know that if he were still here today he would tell me all of his amazing and unimaginable stories about what his life was like as a child and young adult in Italy. More importantly of never forgetting our Italian culture and how important family is.